If you're buying a home there's a good chance you'll need a mortgage to make a purchase. But not all mortgages are created equal. Depending on your situation — for example, your credit score and how much you have for a down payment — you might have a variety of loan options available to you, including conventional loans and FHA loans.
But what, exactly, are the differences between the two, and how do you know which is the right loan for your home purchase?
A recent article from realtor.com outlined key things to know about FHA loans vs. conventional loans, and how to determine which is the best loan for you, including:
Minimum down payment. Not all, but most loans, you need a down payment to buy a home, and that's true for both conventional loans and FHA loans. The difference is how much of a down payment you'll need. With FHA loans, you'll need to put down a minimum of 3.5 percent; with conventional loans, depending on the lender, you'll need anywhere between 3 percent and 20 percent set aside for a down payment.
Minimum credit score. To qualify for a conventional loan, you'll generally need a credit score of at least 620. On the flip side, the minimum credit score for FHA loans is 580, making it an ideal option for buyers with less-than-perfect credit.
Mortgage insurance requirements. FHA loans are insured by the federal government and, as such, you'll have to pay mortgage insurance for the entirety of the loan, including an upfront fee (generally 1.75 percent of the purchase amount) and an annual premium (generally 0.85 percent.) But with conventional loans, you can avoid having to pay mortgage insurance from the get-go by putting down 20 percent.
FHA loans and conventional loans both have advantages and disadvantages, so weigh the pros and cons, and decide which loan is best for you, considering your situation.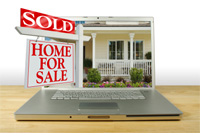 Find out how much your home or real estate property is worth. Get Your FREE Home Market Analysis Report Right Now!