When you sell your home, you want it to appeal to as many buyers as possible.
But there are certain things that can instantly make buyers say "no thanks" to your home, even if the issues are easily fixable and the home could actually be a good fit for them.
So what, exactly, are those turn-offs, and how can you avoid them to ensure your home is as appealing as it can be?
A recent article from realtor.com outlined visual elements that can be a major turnoff for buyers, including:
A junk-filled yard.
As they say, you can only make a first impression once. If buyers drive up to your home and are immediately greeted by a yard full of junk (for example, a broken down RV, or old, broken children's toys scattered around the yard), many will just keep on driving. Before you start showing your home, make sure to clear your yard and other outdoor areas of any junk, trash, or debris.
Dated wallpaper. 
Some buyers have a hard time seeing a home's potential. So if the home features extremely dated or out-of-style wallpaper, many will see the property as dated and undesirable, even though swapping out wallpaper is a pretty simple fix. If your home's wallpaper seems dated, consider replacing it with something more modern, or removing the wallpaper and painting the walls in a neutral color — like off-white or gray — which is almost universally appealing.
Mismatched flooring. 
Homes with multiple types of flooring can lack visual flow and make the home feel disjointed. If you have a variety of flooring styles (for example, multiple types of tiles and vinyl flooring), consider installing hardwood floors throughout. While it's a big project, it can help sell your home for a higher price and, as far as home projects go, has a solid return on investment. According to the article, the ROI on installing hardwood floors generally falls between 70 and 80 percent.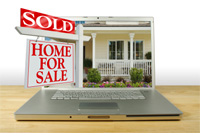 Find out how much your home or real estate property is worth. Get Your FREE Home Market Analysis Report Right Now!