When you show your home, you want to make sure that the property is as appealing as possible to potential buyers, and that includes proper staging.
But there's no one-size-fits-all solution to staging; if you want to stage your home effectively, you have to do so in a way that works for your specific home — and that includes if you're selling a smaller home.
So how, exactly, do you stage a small home?
A recent article from realtor.com outlined staging tips to help sell a small home, including:
Get down to the bare minimum. To effectively stage a small home, you need to make the home seem as large and spacious as possible, and that means clearing out as much stuff as possible. Before you show your home, go through all of the items in your home and pare down to your daily essentials, then box everything else and put it in storage.
Focus on one color. Painting is a quick, affordable way to transform any space. And if you want to transform your small space in a way that makes it feel larger, consider painting the entire home in a single color. Focusing on one color creates a sense of continuity throughout the home, which can make it appear more spacious. In addition to paint, make sure to stage the rest of your home in the same color and/or similar tones. (For example, if you paint your walls ivory, you might stage your home with white, beige, and cream furniture and accessories.)
Use mirrors strategically. Mirrors reflect natural light, which can not only make a dark room appear brighter, but can make a small room appear larger. To maximize the mirror's impact, hang it either next to, or directly across from a window, which will add a sense of depth to the space.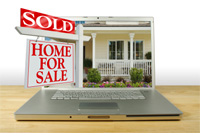 Find out how much your home or real estate property is worth. Get Your FREE Home Market Analysis Report Right Now!